Harlem Late Night jazz Presents:
HARLEM LATE NIGHT JAZZ​ Presents:
Boogie-woogie is a style of blues music, usually played on the piano, that is closely related to jazz forms such as ragtime and stride piano. As time went on, solo boogie-woogie extended from piano to piano duo and trio, guitar, and big band. While the blues traditionally expresses a variety of emotions, boogie-woogie is mainly associated with dancing.1The broad consensus is that boogie-woogie piano was first played in Texas in the late 1870s. In January 2010, John Tennison summarized his research into the origins of boogie-woogie with the conclusion that Marshall, Texas is "the municipality whose boundaries are most likely to encompass or be closest to the point on the map which is the geographic center of gravity for [boogie-woogie] performance between 1870 and 1880."2 Additional citations place the origins of boogie-woogie in the Piney Woods of northeast Texas.
A number of African words have some interesting linguistic similarities to "boogie". They include: the Hausa word "Boog", and the Mandingo word "Booga" (both of which mean "to beat", as in beating a drum), the West African word "Bogi" (which means "to dance"), the Bantu term "Mbuki Mvuki" (Mbuki: "to take off in flight"; Mvuki: "to dance wildly, as if to shake off one's clothes"). The African origin of these terms is certainly consistent with the African-American origin of the music.
Boogie-woogie continued the tradition of blues and migrated north in the early 1900s. By the 1920s, boogie-woogie was one of America's major musical genres. Boogie-woogie was very popular among the poorer African American communities, especially in St. Louis, Chicago, New York, and Detroit. The term "boogie" was associated with the idea of a house rent party, where neighbors would gather together and pay a small fee to listen to boogie-woogie music played by a local musician. The money they raised would go to pay the host's rent on their house. The lyrics to "Pinetop's Boogie Woogie," consist entirely of instructions to dancers.
"Pinetop's Boogie Woogie", released in 1929, was the first boogie-woogie hit. Smith's record helped establish "boogie-woogie" as the name of the style. It was closely followed by another example of pure boogie-woogie, "Honky Tonk Train Blues" by Meade Lux Lewis in March 1930.
Boogie-woogie gained further public attention in 1938 and 1939, thanks to the From Spirituals to Swing concerts in Carnegie Hall promoted by record producer John Hammond. The concerts featured Big Joe Turner and Pete Johnson as well as Meade Lux Lewis and Albert Ammons. These three pianists, with Turner, took up residence in the Café Society night club in New York City where they popularized boogie woogie with the sophisticated set.
Notable musicians of the movement include Jimmy Yancey, Clarence "Pinetop" Smith, Meade Lux Lewis, Pete Johnson, and Albert Ammons, to name a few.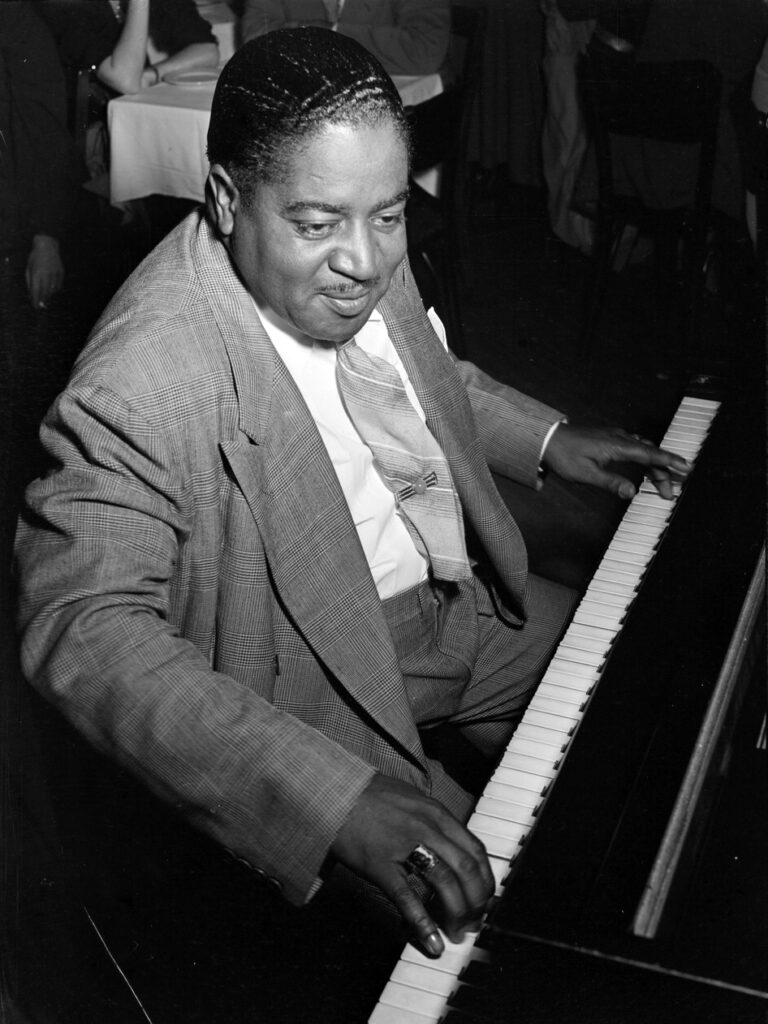 Footnotes:
11 Paul Du Noyer, The Illustrated Encyclopedia of Music, 1st ed. (Fulham,London: Flame Tree Publishing, 2003), 165.
22 John Tennison, "Boogie Woogie: Its Origin, Subsequent History, and Development," The Boogie Woogie Foundation,
http://www.bowofo.org.
33 Paul Elliot, That Crazy American Music (Bobbs-Merrill Company:1957), Chapter 10, 229.