Harlem Late Night jazz Presents:
HARLEM LATE NIGHT JAZZ​ Presents:
Emerging in 2000, the musical convergence of hip-hop and jazz was inevitable. After all, early gospel, blues, and jazz employed call-and-response cadences dealing with the same themes prevalent in hip-hop: procreation, braggadocio, and overcoming overwhelming odds. As Erica Blount puts it: "Hip-hop is like one of the children of jazz music."1
It would be quite a few years after hip-hop hit the scene, however, that jazz and hip-hop crossed paths in a meaningful way. Miles Davis' album Doo-Bop (Warner Brothers, 1993) was the first to cross that bridge. Featuring the production work of Easy Mo Bee, the album used earlier recordings from the deceased trumpeter flanked by popular loops, grooves, and samples of the time.2
An early pioneer, the Native Tongues, used "jazz" in their song titles from 1990-91. The Native Tongues, a collective from the late '80s and early '90s, helped steer hip-hop into an introspective, more socially conscious art form heavily influenced by jazz samples and rhythm. The collective was formed in New York by the Jungle Brothers and a Tribe Called Quest (ATCQ), with origins in Afrika Bambaataa-led Zulu Nation.
Groups like A Tribe Called Quest and Digable Planets were drawing heavily from classic jazz recordings for sampling. A Tribe Called Quest brought organist Lonnie Smith back to the spotlight through a sample of "Spinning Wheel" from the album Drives (Blue Note, 1970). They did the same for Ronnie Foster by sampling "Mystic Brew" from Two Headed Freap (Blue Note, 1972). Guru's Jazzmatazz series of recordings, which started in 1994 and featured Donald Byrd and Branford Marsalis, among others, marked the beginning of hip-hop's crossover to the jazz mainstream.
Around 2000, jazz fully begins to incorporate hip-hop. Previously, hip-hop artists were known to sample jazz riffs and melodies in their productions, but jazz musicians hadn't followed suit. One of the innovators in this effort was Courtney Pine, a British saxophonist who incorporated soul, funk, and hip-hop into his jazz recordings. On a live recording of the Gil Scott-Heron classic "Lady Day and John Coltrane," Pine flips the script by taking a spoken-word anthem and arranging it for a soulful jazz band, essentially adding hip-hop to the jazz band idiom.3 Its also important to note the Nas 2004 ground breaking release "Bridging the Gap," a genre-bending collaboration with his father, the renown jazz trumpeter and singer, Olu Dara.
However, the massive shift of hip-hop becoming inextricably linked to jazz came through the late trumpeter Roy Hargrove's album Hardgroove (Verve, 2005), which featured Common and Erykah Badu. For really the first time, big name rappers were collaborating on a jazz artist's recording and creating an unparalleled level of crossover.4 The success of Robert Glasper's Black Radio series of records proved (through appearances by Badu, Snoop Dogg, Common, and others) that hip-hop had become a permanent part of the jazz landscape. Glasper, Chris Dave, Mark Giuliana, and Ben Williams all grew up during hip-hop's golden age. Glasper and drummers Dave and Giuliana have these taken hip-hop rhythmic concepts and applied them to acoustics instruments. Though the topic is controversial for some, hip-hop is a now huge part of the modern jazz language.
Notables include: Miles Davis, Roy Hargrove, Robert Glasper, Guru, Herbie Hancock, the Pharcyde, Greg Osby, De La Soul, the Roots, Common, A Tribe Called Quest, Chris Dave, Mark Giuliana, Souls of Mischief, Nas and Olu Dara.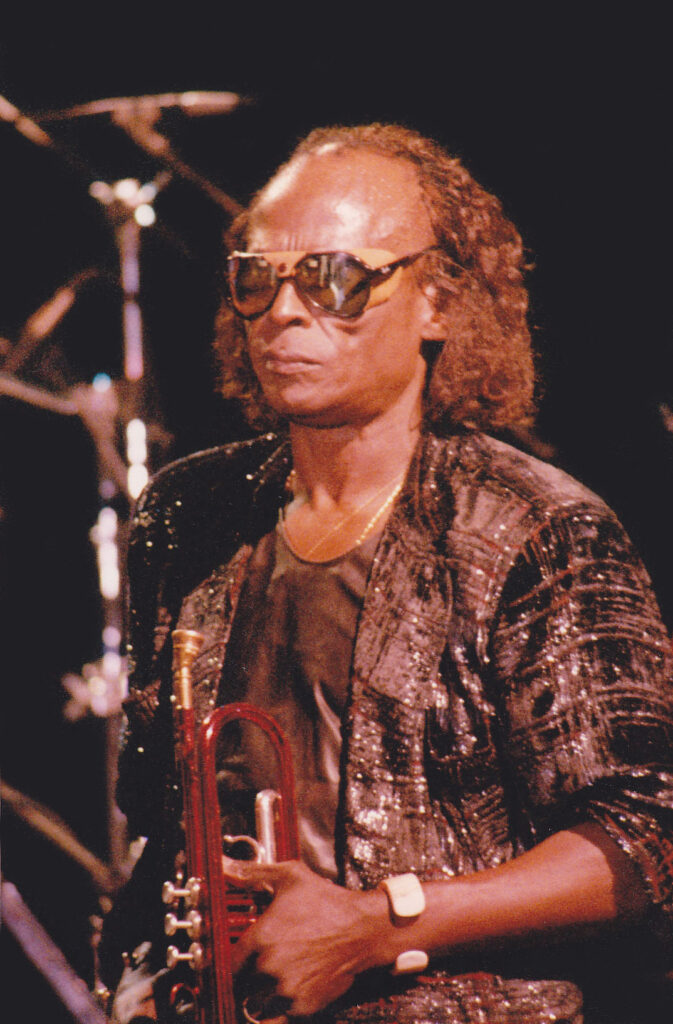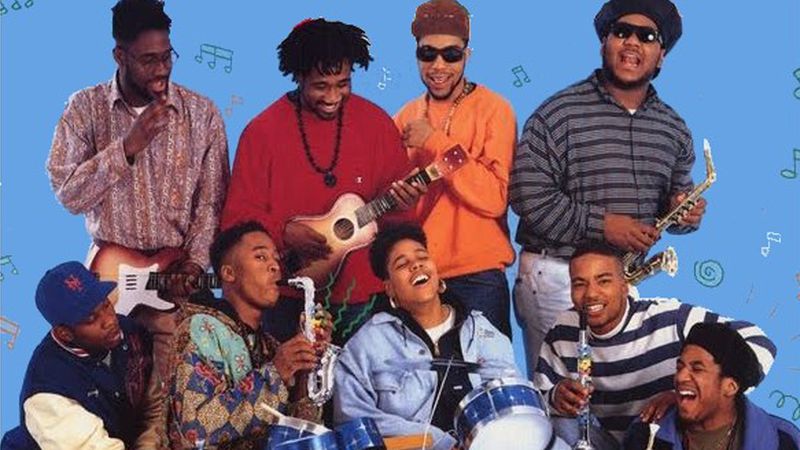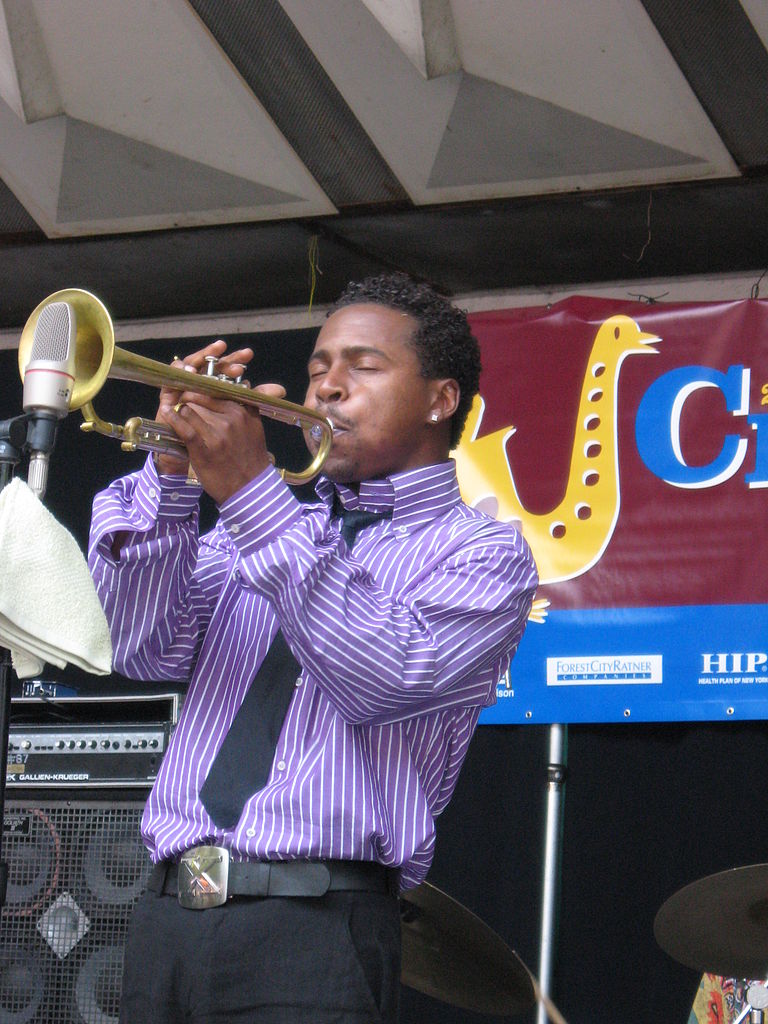 Footnotes:
1 Ericka Blount, "Where Jazz Meets Hip-Hop," Jazz Times, April 1, 1998, updated April 2019, https://jazztimes.com/archives/where-jazz-meets-hip-hop/.
2 New York Jazz Workshop, "What are the connections between jazz and hip hop?" New York Jazz Workshop, Accessed March 2020, https://newyorkjazzworkshop.com/what-are-the-connections-between-jazz-and-hip-hop/.
3 Scott Morin, "The convergence of jazz and hip-hop, from Louis Armstrong to Kendrick Lamar," CBC Music, Feb 16, 2018, https://www.cbcmusic.ca.
4 New York Jazz Workshop, "What are the connections…hip hop?" Accessed March 2020.