Harlem Late Night jazz Presents:
HARLEM LATE NIGHT JAZZ​ Presents:
Swing is a style of jazz that, unlike Dixieland, features a larger-than-usual big band and a smoother beat, with flowing phrasing and less complex rhythms and harmonies than those featured in modern jazz. Big bands often featured strong soloists that improvised over the melody of a given tune. In 1920, the jazz age was underway and was indirectly fueled by the prohibition of alcohol. In Chicago, the jazz scene was developing rapidly, aided by the immigration of over forty prominent New Orleans jazzmen to the city. New York and Kansas City also became swing/big band meccas. During this period, the music of jazz began to evolve to bigger band formats—combining elements of ragtime, black spirituals, blues, and European music. Edward Kennedy "Duke" Ellington, William James "Count" Basie, Don Redman, and Fletcher Henderson led some of the more popular early big bands. These groups nurtured young stars and future bandleaders such as Coleman Hawkins, Benny Goodman, Roy Eldridge, Benny Carter, and John Kirby. Some of the greatest female vocalists in all of jazz history emerged during this era including Ella Fitzgerald, Billie Holiday Sarah Vaughan, Lil Hardin Armstrong and the Boswell Sisters.
An exciting revolution in jazz music broke out of New York's Harlem district in the late 1920s. The popularity of swing increased as people invented new dances to complement its driving rhythm. The Savoy Ballroom in Harlem opened its doors in 1926 and, for the next twenty years, became a hotbed for swing bands. It was at the Savoy that a dance style called the Lindy Hop was invented and refined. Through the press, recordings, and live radio remote broadcasts, the American public was introduced to this new music, and the dance craze took off.1 The Lindy Hop helped fuel the popularity of swing among black and white Americans. The swing era also brought respectability to jazz—moving music that, until that time, had been associated with the brothels of New Orleans and the Prohibition-era gin mills of Chicago into the ballrooms of America.
The exact start of swing music is hard to pinpoint. The word "swing" appears in the title of a famous Duke Ellington number from 1932 called "It Don't Mean a Thing (If It Ain't Got That Swing)" and in another song from that same year called "Moten Swing," by Bennie Moten.
The swing era was, in many ways, an exercise in public relations. To succeed on a national scale, a band—especially its leader—had to be white. Although several black orchestras (e.g., those of Basie, Ellington, Chick Webb, and Jimmie Lunceford) became famous during the period, the swing age was mostly a white preserve whose outstanding bandleaders included Benny Goodman, Harry James, Tommy and Jimmy Dorsey, and Glenn Miller. Although Goodman was billed as the "King of Swing," the best bands were those of Ellington, Basie, and Webb.2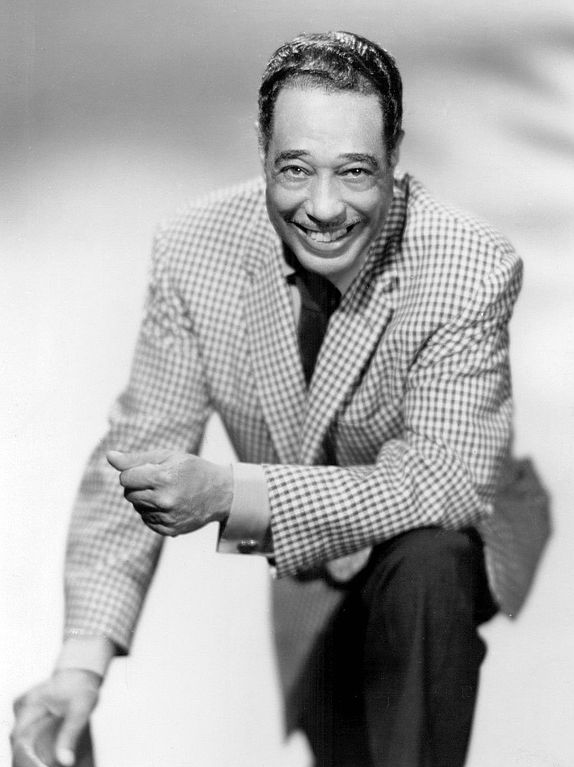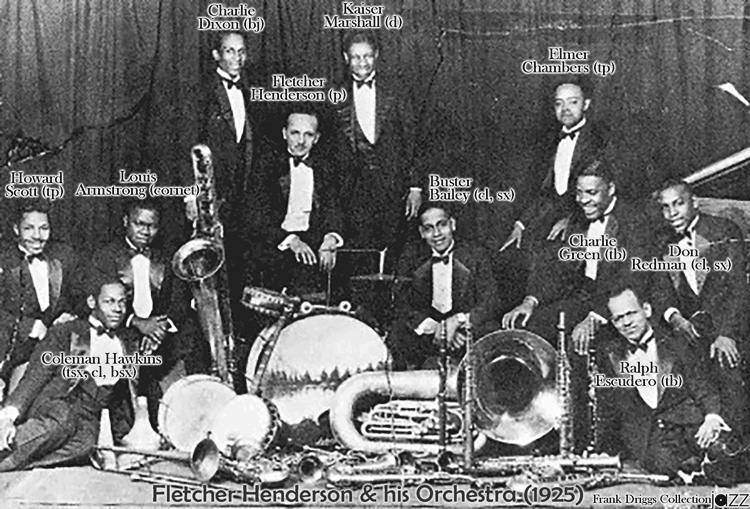 Footnotes:
1 Leonard Wyeth & Acoustic Music .Org, "Big Band and The Swing," http://acousticmusic.org.
2 Editors of Encyclopedia Britannica,"Swing," Encyclopedia Britannica, https://www.britannica.com/art/swing-music.